Just minutes from downtown Oakland & San Francisco
2433 Mariner Square Loop
Ste 212
Alameda, CA 94501
(at Mariner Court Office Park)
Features:
* 800 sq ft
*24/7 availability
*Seating capacity up to 50
*Kitchenette
*Free use of projector & wireless internet
*Custom room configurations
*Ample free parking
*Easy access from freeways & public transportation.
*Views of Downtown Oakland & Marina
RATES:
MONDAY - FRIDAY

before 5pm $40 hourly
$250 daily
after 5pm $50 hourly

SATURDAY - SUNDAY
$50 hourly
$300 daily
*daily rates typically include rentals finished by 5pm
*special hourly rates available for long-term commitment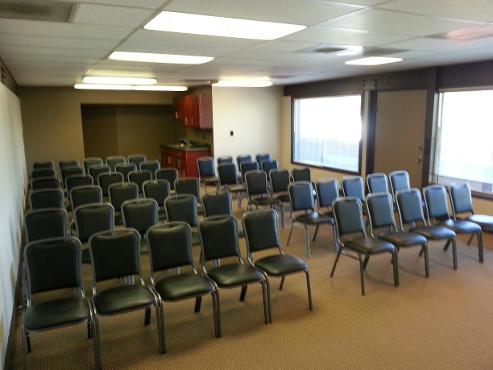 More Meeting Facility Details:
Our Alameda - Oakland meeting room is just minutes from downtown Oakland. Additionally, downtown San Francisco is just a 15 minute drive or easily accessible with the Free BART shuttle to nearby Alameda Landing. For events lasting more than one day, we are located within walking distance from numerous hotels, restaurants and shopping centers. Enjoy the convenience of our location along with the quiet setting of Mariner Court Office Park. This facility is perfect for your next business meeting, seminar, workshop, networking event or class. Whether you're looking for a meeting room or classroom near Oakland, Alameda, Berkeley, San Francisco, San Leandro or just in the heart of the East Bay, this meeting room is an ideal venue location. If you're in the process of event planning for your next seminar, class or workshop you will be hard pressed to find other meeting facilities that can accommodate you like we can. As always, our A/V equipment and high speed business internet is included in our advertised rates! Contact us today to check on availability.
This meeting facility is only one block away from Alameda Landing. "Situated at the western gateway to Alameda, Alameda Landing is quickly transforming this former home of the Navy's Fleet Industrial Supply in to a 72-acre mixed-use development that is revitalizing the area with new homes, premier waterfront dining, retail and commercial opportunities. Alameda Landing is well situated as a regional destination with convenient access to the densely populated areas of Downtown Oakland, Piedmont and Emeryville as well as easy access to nearby ferry service to Downtown San Francisco."